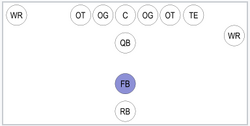 A fullback (FB) is a position in the offensive backfield in American and Canadian football, and is one of the two running back positions along with the halfback. Typically, fullbacks are larger than halfbacks and in most offensive schemes their duties are split between power running and blocking for both the quarterback and the other running back.
Some notable Packers fullbacks include Clarke Hinkle, Jim Taylor, Edgar Bennett, William Henderson, Korey Hall, and John Kuhn.
Ad blocker interference detected!
Wikia is a free-to-use site that makes money from advertising. We have a modified experience for viewers using ad blockers

Wikia is not accessible if you've made further modifications. Remove the custom ad blocker rule(s) and the page will load as expected.