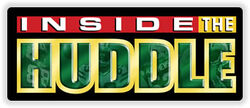 Inside the Huddle is a thirty-minute weekly television program featuring Green Bay Packers players and host Drew Smith (Sports Director at Green Bay's FOX 11, WLUK).
The show originally aired in 2004 and was co-hosted by Smith and Donald Driver, with the show officially called Inside the Huddle with Donald Driver. Beginning in 2010, the Packers player co-host was rotated between four players; Driver, Clay Matthews, Jermichael Finley, and James Jones. Other top players from the Packers will feature as guests during each weekly episode.
Inside the Huddle programming airs for seventeen consecutive weeks from September through January. It can be seen through out all of Wisconsin and parts of Michigan, Illinois and Iowa.
Inside the Huddle has featured guest hosts Aaron Rodgers, Ryan Grant, A.J. Hawk, Aaron Kampman, Charles Woodson and Brett Favre.
External links
Edit
Ad blocker interference detected!
Wikia is a free-to-use site that makes money from advertising. We have a modified experience for viewers using ad blockers

Wikia is not accessible if you've made further modifications. Remove the custom ad blocker rule(s) and the page will load as expected.