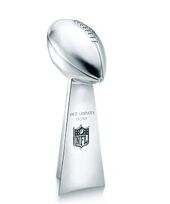 The Vince Lombardi Trophy is the trophy awarded each year to the winning team of the National Football League's championship game, the Super Bowl. The original name of the trophy was initially inscribed with the words "World Professional Football Championship" and was referred to generically as the world championship trophy, it has been awarded since 1967 when the Super Bowl's official designation was the AFL-NFL World Championship Game. The trophy was renamed in 1970 in memory of legendary Green Bay Packers head coach Vince Lombardi after his sudden death from colon cancer to commemorate his victories in the first two Super Bowls.
Ad blocker interference detected!
Wikia is a free-to-use site that makes money from advertising. We have a modified experience for viewers using ad blockers

Wikia is not accessible if you've made further modifications. Remove the custom ad blocker rule(s) and the page will load as expected.